INLEDNING: Någon skitfunktion från blogger/Google översatte plötsligt stora delar av mitt inlägg till engelska utan möjlighet att backa. Beklagar det, orkar inte skriva om allt. Hoppas det är läsbart även blandad text.
CPLP:
Dividend, refinancing, report and dividend paid.
Inevitably, there was speculation about raising already this quarter, including an UBS report on the subject. I had my main weight on hopes only the next quarterly report. Now, however, we have new facts to take stock of mixed composites.
Positivt att omfinansieringen är klar. Negativt eller kanske blandat att den innehåller så extremt hårda amorteringsvillkor att jag nog aldrig sett något liknande. Vad man ofta glömmer är att det utöver ca 25 års ekonomisk livslängd på fartygen också finns en kraftig komponent i form av skrotvärde, i CPLPs fall runt 220 musd i dagsvärde. Dvs logiken säger att man amorterar ner fartygen till ca den nivån och den åldern. Så är det inte lagt för CPLP, istället pratar vi snabb amortering till noll:
The New Facility has a six year maturity from drawdown, but it will be repayable in any event no later than
November 2023
. The New Facility is comprised of two tranches. Tranche A amounts to the lower of (i)
$259.0 million
and (ii) 57.5% of the value of 11 of our vessels with an average age of 3.0 years, and shall be repaid in 24 equal quarterly instalments of up to
$4.8 million
in addition to a balloon instalment of
$143.0 million
(payable together with the final quarterly instalment).
Tranche B amounts to the lower of (i)
$201.0 million
and (ii) 57.5% of the value of 24 of our vessels with an average age of 10.3 years, and shall be repaid fully in 24 equal quarterly instalments of up to
$8.4 million
. The loans drawn under the New Facility will bear interest at LIBOR plus a margin of 3.25%.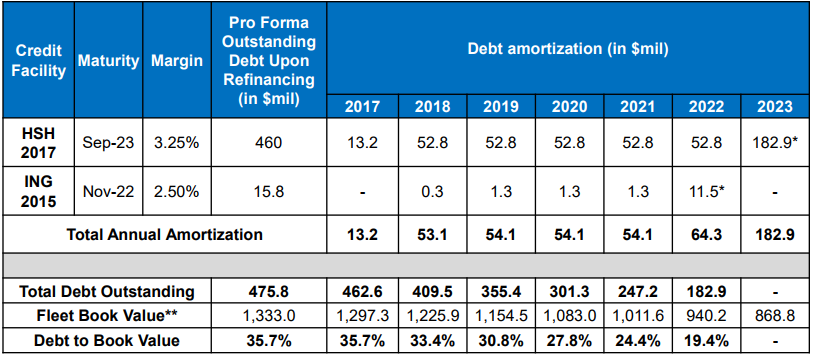 2023 kommer bolaget troligen ha kvar 35 av dagens 36 fartyg och snittåldern kommer då vara 13 år på dessa fartyg, dvs ca halva ekonomiska livslängden men flottan kommer vara kraftigt nedamorterad till 40 musd under dagens skrotvärde.
Detta är inte normalt med MLP bolag. Anklagelsen brukar tvärtom vara att bolagen delar ut för mycket och inte sätter av tillräckligt för förnyelse av flottan utan finansierar förnyelse helt med nyemissioner när det blir dags.
Vad är konsekvensen av detta? Svaret på den frågan är att det:
a) Gör CPLP till kanske shippingens mest konservativa play.
b) Gör att det blir mindre pengar till utdelning.
c) Gör att CPLP antingen får en lägre värdering då utdelningen är lägre än den kunde vara eller att marknaden framöver accepterar lägre utdelning då risken är lägre än i andra liknande bolag.
Varför händer detta? Svaret på den frågan ligger till stor del i långivarens HSH banks situation:
Germany's shipping finance provider HSH Nordbank has reported high loan loss provisions as it set aside EUR 2 billion (USD 2.14 billion) for legacy shipping assets.
The high loan loss provisions for shipping loans emerged amid the ongoing difficult development of the shipping market, while general loan loss provisions of EUR 237 million were simultaneously reversed, leaving a balance of EUR -1.76 billion to be allocated to loan loss provisions.
EUs och speciellt Tysklands ansvarslösa banker är ju ett kapitel för sig och jag tänker inte ge mig djupare in i det mer än att säga att dessa zombiebanker försöker krympa och ta sig ur eländiga situationer och helst inte skulle långa ut till shipping alls (troligen lånar de just nu inte alls eller till bostadsbubblor för att positionera sig där nästa smäll kommer...). Detta drabbar hela shippingbranschen vilket egentligen är något bra då det sänker riskerna för överdrivna varvsbeställningar. Men det drabbar olika bolag olika mycket och CPLP drabbades hårdare än jag trodde.
Men... hur illa är detta egentligen... för det första... caset CPLP var enormt starkt och min prognos om höjning från 8 till 10 cent var mycket konservativ, det finns gott om utrymme för att göra den höjningen även med dessa amorteringar. Men samtidigt finns det en hake till... MLP's är till för att tjäna sina föräldrar snarare än att primärt tjäna andelsägarna... i shipping betyder det att föräldern vill skicka ner sina fartyg som har kontrakt ner till dottern och ta del av den vinst som uppstår när dotterbolaget finansierar sig till 4% men föräldern leasar ut fartyg till säg 10% avkastning. Detta är orsaken till att alla dessa utdelande MLP (dotter)bolag finns.
That is, we can not only take into consideration that CPLP has space, even with these amortizations, to raise to say 12 cents tomorrow .. we also have to consider that the parent is sitting with a whole bunch of boats that are suitable for dropping down to CPLP. In essence, these drop downs increase utdelningskapaciteten ytterligare.. men, the company needs to pay about 50% of the cost of those with equity. EK som de kan få fram genom att:
1. Använda kassan (banken var obehagligt hård även här genom att lägga beslag på större delen av den kassa de byggt upp genom att betala dagens mkt låga utdelningsandel). Ca 50 musd är tillgängligt vid nästa kvartalsrapport.
2. Issue shares: The company continues with the hateful ATM mechanism, ie to sell its own shares on the stock exchange when the price is strong.
3. Do something creative. Unlikely but you can, for example, pay the parent with own shares or sell pref shares etc.
If management had been smart (think many, including me), they would have raised the dividend, raised the price and then placed shares at a higher rate. Instead, they have created a depressed valuation that iofs is the reason why I'm interested in them. The question is how they look at this now and whether it was their own will or the bank that ruled when they did not choose this. We will learn this after the funding is formally completed within a month. It is easy for them to motivate sharp increases in dividends and undoubtedly would send the price so that they could safely place a larger tranche of new shares into institutions .. and make a bigger dropdown.
The alternative is that they are still sluggish and use only the 50 musd for 1-2 vessels depending on size, continuing with the malicious ATM and raising the dividend limited, eg 1 cent next quarter.
HOW goes the company itself, prospects? This is an interesting question that you should also spend time on. Shipping has had weak fundamentals of supply and demand in several industries, primarily by banks such as HSH financed for large orders.
CPLP har klarat dessa svåra år delvis genom att ha långa kontrakt. Kursen har till stor del backat pga att man var ett av de där bolagen som delade ut för mycket... nu är man extremfall av motsatsen..
Men CPLP liksom många andra bolag har gradvis bra kontrakt som byts ut mot sämre kontrakt. Så har det varit ett bra tag nu, speciellt har det drabbat råoljetankers men även produkttankers. OM vi tror dagens erbjudna 1-3 års kontraktspriser kommer kvarstå så kommer detta fortsätta inom ren och smutsig tanker medans två containerfartyg i april-maj nästa år kommer läggas om till betydligt bättre rater än de har idag. På längre sikt (2020) så finns det container och ett bulkfartyg som har betydligt bättre rater än vad som erbjuds idag men det motverkas till del av att HMM fartygen återgår till mycket högre rater ungefär samtidigt. Det är också väldigt sannolikt att vi 2020 har en helt annan container marknad. Detta är en marknad som de facto i mitt tycke är shippings framtid mer än andra och med tillväxt runt 5% i år vilket är oerhört bra.
Ni har sett mig skriva om bulk som turnaround och jag fick rätt i mångt och mycket. Skulle jag peka på nästa bransch som kommer gå bra så är det clean tankers, diesel, bensin etc. Fundamenta ser klart lovande ut, speciellt för MR segmentet. Dvs hade jag letat efter nytt "Scorpio Bulkers-SALT" så hade jag gärna letat där. Jag nämner detta för det är här CPLP till största del har behov av nya kontrakt framöver. Man skulle idag kunna binda fartyg på 3 år till rätt bra priser men man ser samma fundamenta som jag och har tagit det ovanliga steget (för denna typ av MLP bolag) att köra spot på lägre hyra eller 1 årsavtal. Detta "skördar vi negativt idag vid vinst/kassaflöde" men det är något jag är glad för och ser som positivt därför att det är exponering jag gärna vill ha. CPLP är inte renodlat det... men det är det... samtidigt som det ger nära 9% utdelnings som är extremt väl underbyggt.
CPLP är mitt isärklass största innehav och jag är fortsatt mycket positiv till bolaget. Det har gått hyggligt och det ger mig generös utdelning. Ungefär så jag fortsätter räkna med att det utvecklas. Gillar läget skarpt även i förutsägbar och kortsiktig rekyl efter rapport och utdelning.