Nedanstående visar Ungern statsskuld som i många år pekats ut som problemet i den ekonomin, åtminstone historiskt. Men när PIIGS gick åt sitt håll så tog Ungerns PM Victor Orban landet åt ett annat håll med låga skatter och satsning på att attrahera tyska företag. Internationella banker fick stå sitt kast att låna ut i Schweiz franc till ungerska hushåll och tvingades ta smällen att skriva om det till ungerska forint. Orban och regeringen tvingade dem göra detta strax före Schweiz släppte peggen mot Euron. Nu diskuteras det istället lättnader för bankerna i landet för att underlätta kreditexpansion i nuvarande tillväxtfas.
Hungary's debt-to-GDP ratio dropped to 75.3% by the end of 2015, even lower than previously reported, the Economy Ministry announced on Tuesday. The cabinet did not make a fuss of this development and was over and done with it by inserting a single sentence in its statement on Q4 2015 GDP today morning.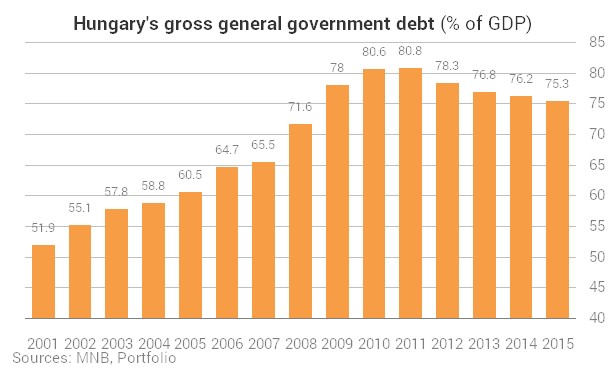 Utöver ovanstående positiva effekt så har det också skett en massiv omläggning från utländsk upplåning till upplåning i HUF från ungerska hushåll. Endast ideologiska skäl från USA och EU förhindrar att Ungern fått s.k investment grade kreditbetyg. Marknaden har redan klart visat att man misstror kreditinstituten genom att sätta lägre ränta på Ungersk upplåning än de flesta länder i regionen som ligger på rätt sida vad gäller kreditbetyget.
Some 84% of the 155 Hungarian company leaders interviewed for PwC's annual CEO survey said they are confident about their own firm's revenue growth in 2016, while 59% expect the Hungarian economy to grow, and 54% foresee the growth of the global economy this year, according to an analysis of the survey published by PwC today.
PwC's annual CEO survey, which involved 1,409 business leaders globally and has included Hungary for the last five years, provides a detailed barometer of the plans and expectations of business leaders worldwide.
Asked what was most surprising about this year's survey, Nick Kós, country managing partner for PwC Hungary, said it was "that Hungarian CEOs are more positive than their global peers both about their own revenue growth and global economic growth. In the last few years, we have seen them be more positive about global growth than global CEOs, but now 84% of them are also confident about their own company's prospects. I think that is fascinating, as we are a people not necessarily renowned for being positive."
With regard to their own company's growth prospects abroad, 38% of Hungarian CEOs expect Germany to be the most important player this year, 21% foresee Romania playing a key role and 16% expect Russia to be important, the findings of the survey show.
"Traditional target markets remain attractive, Hungarian CEOs tend to focus increasingly on neighboring countries", the analysis published today said.
The report also noted that there is less of an expectation of a global market, saying: "The majority of CEOs anticipate a multi-polar world rather than a globalizing one: with multiple value systems, rules of law, economic and trading models."
When asked to rank the top three global trends they expect to transform stakeholder expectations of businesses within their sector over the next five years, CEOs listed technological advances (72%), demographic shifts (70%), shifts in global economic power (49%), resource scarcity and climate change (40%) and urbanization (35%).
Asked about possible threats to their progress, 85% of Hungarian CEOs said they were concerned about the lack of qualified professionals in their sector. Some 59% of those surveyed listed the Hungarian government's response to fiscal deficit as a possible threat, according to PwC.
Ungern växte 2.9% under 2015 och hade stabilt och bra bytesbalansöverskott.
Hungarian real estate markets on the rise
The report highlights Hungary, as a country that has flown under the radar for the past 12 - 18 months. On macroeconomic terms, Hungary's economy is supported by cheap energy, low interest rates and relatively low exposure to the slowdown in China (a GDP growth of 2.9% in 2015). Looking at it from a property market perspective, strong household consumption will impact retail markets (already tenant turnovers have increased in some cases by double digit figures), buoyant automotive production benefits industrial properties and the expansion of ICT services will further dominate the Budapest office scene (office demand was up 51% y-o-y). The overall cautious development market helps capital values to improve further as rental outlook remains positive for owners. Helped by a strong occupational market and more affordable financing, yield levels can compress further from their current high levels, narrowing the gap against other core Central European markets.