Inte så komplicerat. Det som fattas här är påståendena att USA shale skulle vara swing producer som skulle styra världens priser genom att som en kran vrida på och av olja när vi är över respektive under 40-45 usd. Jag har tidigare beskrivit varför jag tror det är helt fel, främst pga bristen på kapital men även pga missförstånd vilka priser som krävs för att de ska vilja öka produktionen. I princip har vi tre stora kostnader efter att shale oljan är identifierad:
1. Borrning
2. Fracking
3. Få den till marknad (differens mot WTI).
Vad som (i mitt tycke felaktigt) används som bevis för "vrida på kranen vid 40" teorin är inventory i vissa delar av USA där punkt 1 är avklarad och punkt 3 billig pga geografiskt läge. Dvs företag som pga redan gjord borrning nära gulfkusten som väljer att göra avslutande steget och fracka och sätta i produktion. Lagret av sådana case kommer gradvis dras ner och är bara en del av hur oljemarknaden är en "långsamt svängande supertanker". Idag tycker vi den fortsätter framåt om ett år kommer vi tycka att den är långsam att få upp farten vid den brist som då antagligen är uppenbar.
Ja, shale är kanske det som reagerar först men kapital och kostnad kommer begränsa volymerna och sådant som Kinas inhemska produktion, Brasilien offshore, offshore gulfen, nordsjön, arctic oil, offshore afrika och mängder med annat kommer vara extremt segstartat så länge vi har priser under 60 usd. När detta är sagt så är det troligt att oljan står inför kortsiktig rekyl pga sådant som 200 dma för WTI etc. Men jag lägger majoriteten av min research tid på case som berörts i någon form av dagens situation för oljan.
A wave of projects approved at the start of the decade, when oil traded near $100 a barrel, has bolstered output for many producers, keeping cash flowing even as prices plummeted. Now, that production boon is fading. In 2016, for the first time in years, drillers will add less oil from new fields than they lose to natural decline in old ones.
About 3 million barrels a day will come from new projects this year, compared with 3.3 million lost from established fields, according to Oslo-based Rystad Energy AS. By 2017, the decline will outstrip new output by 1.2 million barrels as investment cuts made during the oil rout start to take effect. That trend is expected to worsen.
"There will be some effect in 2018 and a very strong effect in 2020," said Per Magnus Nysveen, Rystad's head of analysis, adding that the market will re-balance this year. "Global demand and supply will balance very quickly because we're seeing extended decline from producing fields."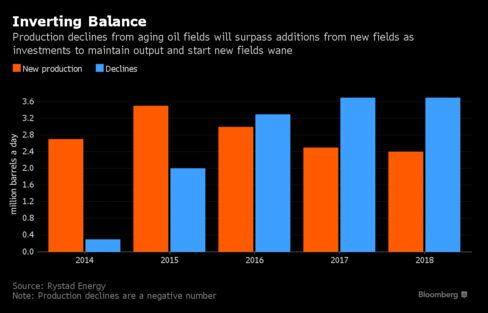 A lot of the new production is from deepwater fields that oil majors chose not to abandon after making initial investments.
"There is a wide range of upstream projects coming online in 2016, and that is a function of the high levels of investment deployed back when we were in a $100 a barrel world," said Angus Rodger, a Singapore-based analyst at energy consulting firm Wood Mackenzie Ltd. "In the short term, they will generate far lower returns than originally envisaged."
Yet, these developments won't be enough to counter the natural decline in oil fields that are starting to suffer from lower investment.
"We see oil investments are declining substantially," IEA Executive Director Fatih Birol said in Berlin on March 17. "That we've never seen in the history of oil."
Even after reducing costs for conventional projects by an average of about 15 percent last year, many still aren't competitive, Wood Mackenzie's Rodger said. Shell approved the Appomattox oil field in the Gulf of Mexico last year at a break-even oil price of $55 a barrel, still above current market rates of $41.15 a barrel at 9:59 a.m. in New York Tuesday.