Igår sprang jag på Bloomberg på ett av de intressantaste citat jag sett på länge.
"However, the most important — and overlooked — factor was "the drop in forward prices brought about by producer hedging under pressure from banks to extend their loans," he said.
Brent futures for delivery in five years have dropped roughly $10 a barrel this year, compared with a drop of $8 a barrel for contracts for immediate delivery.
Output Impact
Dunand said prices were likely to rise in the next couple of years as the market feels the impact of the belt-tightening the energy industry is undergoing.
"I think that about $500 billion in production projects had been shelved between 2015 and 2016 — this would have an impact on future output," he said."
Ni som följt guldmarknaden vet att bankerna har anklagats för att ha shortat s.k pappersguld, dvs till stor del guld för framtida leverans. Även sådana guldförsäljningar måste ju köpas av någon, vanligen någon som spekulerar i högre priser i framtiden. Pengar som annars istället skulle ha gått till t.ex en olje-ETF eller oljebolagsaktier som verktyg för spekulationen.
Ytterligare tidigare så såg ni hur guldmarknaden hejades på prismässigt när PM bolagen köpte tillbaka de gamla hedgar man hade för kommande års produktion, dvs en typ av konstlad efterfrågan.
Vad vi har, utan att det är något suspekt på något sätt, är alltså banker som för att säkra sina lån tvingar oljebolagen att i denna nedgång vi sett/ser, att sälja inte bara sin produktion man har nu utan att samtidigt även vräka ut kommande års FRAMTIDA produktion.. dvs att hedga den, för-sälja den..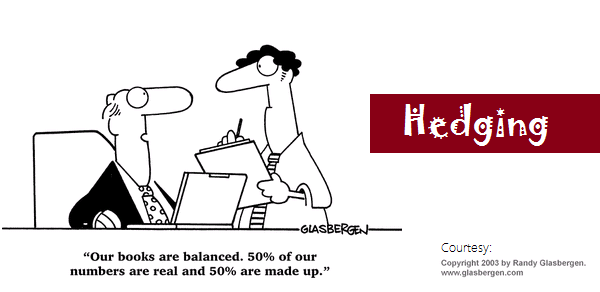 Tacka f#¤ att priset på olja droppar som en sten.. Jag har inga siffror på hur omfattande det är eller när det kan tänkas sluta. Men jag hyser ingen tvekan om att det skapar tillfälligt låga priser.
Som jag tidigare beskrivit, så har jag ökat exponering mot olja men mer indirekt i bolag som tagit stryk tillsammans med olja men som egentligen inte är oljebolag även om marknaden mitt i panik kastar ut allt som lika.
Precis som man vill se så drog Canacol igår 15% under bra omsättning och då har rapporterna om produktionsstart av deras nya gas pipeline/fem års kontrakt ännu inte kommit. Ännu våldsammare drog Golar och dess utdelande bolag GMLP som jag dragit mig lite för att skriva om här innan jag "fått ordning" på min placering i Canacol. Jag har inget jättestort innehav i GMLP, men det jag har är efter trejd bara de jag köpte på absolut lägsta nivå häromdagen dvs kurs ca 8 usd att jämföra med stängning dryga 13 usd igår. Dessa två rörelser i bra bolag när oljan (tillfälligt??) bottnade på 27 och drog till 32.
Låt mig då citera DI från igår:
"Men Nordeas oljeanalytiker Thina Saltvedt spår trots det ett genomsnittligt oljepris på 49 dollar per fat för 2016."
Jag upprepar, om man till rimlig risk kan få exponering mot sådant som är friskt inom oljesektorn så kan man till relativt rimlig risk få exponering mot en potentiell mycket kraftig uppsida liknande rekylen efter 2008. Jag är inte ute efter att upprepa 2009-2010 då jag 10 dubblade portföljvärdet från botten under (kallt konstaterande så här i efterhand..) fruktansvärt risktagande i småbolag, utan jag är ute efter att få exceptionellt bra avkastning till rimlig risk...
Igår raderades största delen av 2016 års nedgång ut för mig. Om gudarna är goda och oljerekylen fortsätter några dagar till så börjar jag se portföljuppgång för året. Då är det isåfall också dags att på allvar börja förbereda sig på rekyl åt andra hållet, allt för att hantera risk.
Jo, om Golar bolagen, det kom igår en nyhet som var en enorm kvalitetsstämpel genom ordentligt samarbete med Schlumberg. Jag avser behålla min post GMLP som vid kurs 13.10 innebär en utdelning på 17.6% vilket är osannolikt väl underbyggt för att vara en så hög procentsiffra. Det som gjorde mig osäker var mer moderbolaget och därför är det väldigt goda nyheter att moderbolaget rusade 50% på nya samarbetet. Innehavet i GMLP är ca 2% av portföljen, så här i efterhand hade det gärna fått vara mer ;-), men det har en utmärkt plats i en bred utdelande portfölj för mig, ger riskspridning vid innehav av REITS.
Men kom ihåg att jag hanterar risk mycket aktivt genom att också sälja av när rejäla studsar upp kommer så att jag kan fortsätta snitta ner om studsarna inte håller i sig, i väntan på den slutliga botten. Jag sprider också risk genom att placera i helt andra typer av bolag och för den delen länder.
Kanske viktigast av allt, jag sysslar inte med bolag man köper och lägger i byrålådan för att vara rik 10 år senare. Jag sysslar med aktier som behöver vaktas noga, förstås noga och regelbundet bytas ut. Detta gäller speciellt nu när jag höjer risknivån ett snäpp igen. Notera också noga att denna eller tidigare bloggar INTE är någon spådom om att oljan bottnar precis här och nu. Jag har ingen aning var och när det sker, jag pekar mer på möjliga breda trender H1 2016 vs H2 2016 än på dagliga rörelser (som jag snarare använder för kortsiktig trading för att hantera risk).