I vad då :-)
Jo, i framtiden.
Last year, emerging markets invested a record $126 billion in clean energy, up 39 percent from the prior year, according to BNEF's new report, called
Climatescope
. China dominated, adding 35 gigawatts of clean energy, or more than the U.S., U.K., and France combined. India may soon be a contender, with a plan announced this year to add 175 gigawatts by 2022.
Två länkar/nyheter: Bloomberg om hur Kina och andra emerging markets bygger ut framtidens energi och artikel hur Kanada gör precis, precis tvärtom mot Sverige, dvs prioriterar de som lider värst av krig (kvinnor, barn och familjer snarare än män 20-25).
1.
http://www.bloomberg.com/news/articles/2015-11-23/leapfrogging-to-solar-emerging-markets-outspend-rich-countries-for-the-first-time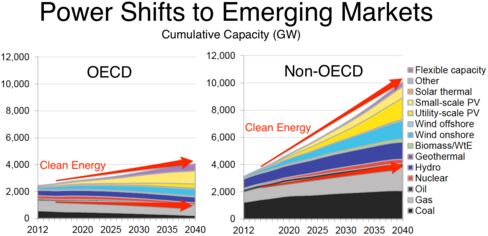 Wow, kolla de respektive bildernas kärnkraft, orange... ursäkta måste hämta glasögonen... Hur kärnkraft är överspelat (samtidigt som så många i Sverige inte tycks vilja förstå det) är kanske det viktigaste jag bloggat om senaste åren. Det som fick mig att börja ompröva vilt, att öppna mitt sinne för teknikutvecklingens betydelse... var hur lätt peak oil löstes genom små tekniska framsteg som gjorde att 5-30% av oljan i ett fält inte längre var "fakta". Nu säger folk att "vind blåser bara ibland", "sol lyser bara på dagen"... Ursäkta.. tror ni på allvar att vi inte kommer FORTSÄTTA utveckla batteriteknik bara kommande årtionde?? Kärnkraft var rätt... nu är det bara... onödigt, storskaligt och dyrt och främst av allt noll teknik utveckling. Uran är en dålig idé framöver tror jag.
2.
Toronto, Nov 23 (EFE).
– The Canadian government's plan to accept 25,000
Syrian refugees
in the coming weeks is to be open only to women, children and families, The Canadian Broadcasting Corporation reported Monday.
Single males are excluded based on security concerns, according to the CBC network.