Länk till deras tjänster
Take a look at this updated chart of GDX…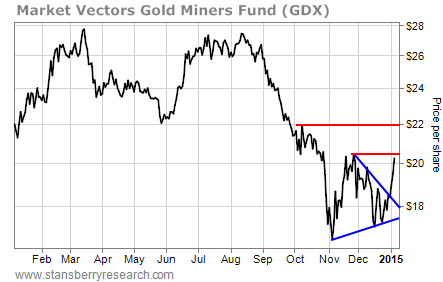 This is what a gold-stock breakout looks like.
GDX has broken the consolidating-triangle pattern (the blue lines on the chart) to the upside.
As I said on Friday, the height of the triangle is 3.5 points. Since GDX has broken above the resistance line of the triangle at around $18 per share, we have a rally phase target of about $22 per share – which is consistent with the resistance level of GDX's October high.
So if you own gold stocks, hang on. There are bigger gains ahead.
But if you don't own gold stocks, you have a decision to make…
GDX is bumping into modest resistance at the spot of its November high – roughly $20.30 per share. If you buy here, you have another $1.70 per share in potential profit. But you also have some risk.
These sorts of breakout moves don't always result in a straight run up to the price target. Often times, after the initial surge, a stock will come back down to retest the spot of the breakout before making a stronger move higher.
In other words, it's possible the first line of resistance will hold and GDX will come back toward the $18.50 level before rallying up toward our $22 price target. This sort of a pullback would give latecomers a terrific chance to get into gold stocks.
But there's no guarantee the pullback will happen. GDX could simply keep running from here.
So you can buy now and run the risk of suffering through a potential pullback. Or you can wait for a pullback and run the risk gold stocks will simply move higher from here.
The best thing to do right now may be to buy a little (one-third to one-half a normal position) just to be sure you're in the trade. Then take advantage of any pullback in the gold sector to build the rest of your position.
Whatever you decide, there are big gains ahead for gold stocks. Make sure you're onboard for the ride.